Is Ronnie O'Sullivan right to dumb down snooker compared to sports such as tennis?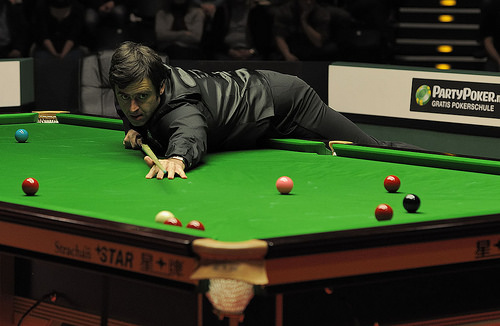 Forty-year-old five-time snooker world champion Ronnie O'Sullivan took a potshot at snooker's governing body before the end of 2017, labeling the sport a "car boot sale" in comparison to other sports such as tennis, Formula 1 and golf, which have successfully adopted a more corporate image. O'Sullivan, who recently lost to Mark Allen in the quarterfinal stage of the 2018 Masters after battling illness during the early rounds, claims that snooker has evolved into "a nothing-type sport."
O'Sullivan claims that too many tournaments are shown to the world, resulting in "cheap TV" and "filler" for other channels. The Essex-born ace compared the £5 entry fee to watch some of snooker's qualifying events for its leading tournaments to the multimillion-dollar glitz and glamor of Formula 1 and tennis as "like a car boot sale" as opposed to shopping at Harrods." O'Sullivan, who is one of the last remaining "mavericks" of the world of snooker, has also been vocal in his frustration that British snooker players rarely feature on the BBC Sports Personality of the Year shortlist. Only one snooker professional, Steve Davis, has ever won the BBC Sports Personality of the Year, back in 1988. Scotsman Stephen Hendry also finished second in 1990 when he was starting to reach the peak of his powers.
It's difficult to know whether O'Sullivan is on the money or not. Although snooker does have a high volume of events each week, resulting in the game "losing its respect amongst other sports," according to O'Sullivan, the tennis tournament schedule is now equally crowded each year. Today's tennis stars have just a few weeks of genuine downtime before the next season begins in earnest at the Australian Open.
The world of snooker has been given a significant shot in the arm in recent years thanks to the revamp overseen by Barry Hearn, chairman of World Snooker. In 2016, prize money for the world tour broke the £10 million mark, with the 2017 World Champion, Mark Selby, picking up a cool £375,000 in the process. Furthermore, the winner of the 2018 World Championship will receive £500,000. The prize pool on the world tour has risen by at least £3.5 million since Barry Hearn took over and there is an increasing number of events hosted on British soil as part of the Home Series ranking events. Alongside the long-standing Welsh Open, Manchester, Glasgow and Belfast will play host to English, Scottish and Northern Irish Open tournaments. Players that achieve a "grand slam" of winning all four of the Home Series events will earn an additional £1 million bonus.
Further afield, the stakes are being raised, too. The 2018's China Open will become only the second tournament after the World Championship to offer a prize pool of more than £1 million. The event's organizers have secured a lucrative new four-year promotion deal, which almost doubles the amount of prize money offered in 2017's China Open.
Overall, Barry Hearn is doing as much as he can to breathe new life into the sport in the same way that he revolutionized the world of darts. Prior to Hearn's involvement in darts, the game was lacking in professionalism and prize money; so much so that few people considered darts as a genuine sport and more of a "pub game." It's now a sport brimming with personalities from around the world, and with snooker's global appeal steadily rising, it won't be long until we discover more Ronnie O'Sullivan's
Happy Shooting!
---